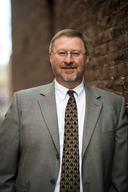 CRPC®
Prior to joining Bridges Wealth Management in 2006, John was a private sector corporate marketing manager and financial planner for 19 years with the Pepsi Bottling Group and a financial services representative focusing in personal pensions with New York Life Insurance for 3 years. He is a graduate of Central College with a BA in Sociology and a teaching credential. He also holds the Chartered Retirement Plan Counselor designation.
He serves both the public and private sectors in lifestyle planning maintaining clients in Oregon, Washington, and California. His mission for his clients is to help develop an individualized, holistic financial plan that helps fit their unique needs and enables them to work towards both short and long-term objectives.
John was born in Modesto, California and moved to Eugene, Oregon 2006. John enjoys living in Eugene with his wife Cathy and their four daughters, Lori, Sherri, Kelli, and Kristi. John enjoys golfing, hiking, and gardening.